'Rent-A-Girlfriend's' Most Recent Advertisement Excites Viewers For Season 3
The third season of "Rent a Girlfriend" left viewers inconsolable after discovering the reason behind Mizuhara's unwavering devotion to her goad. Kazuya was shown to be diligently working on the crowdfunding project and studying every aspect of filmmaking in the last moments of the season.
Throughout the season, Mizuhara was a friend who plainly liked Kazuya. Fans were left begging for season 3 as it was revealed in the end that Mizuhara started to fall for Kazuya when she asked herself why her face got so red while she was speaking to him.
The Rent-A-Girlfriend (Kanojo, Okarishimasu) staff unveiled the third season's full promotional trailer and main visual on Friday. They also revealed four more returning cast members. The start of Season 3 is scheduled on July 7, 2023.
The new advertisement plays a bridge from "Renai Milli-Film" (Love Millimeter Film), Halca's opening theme tune.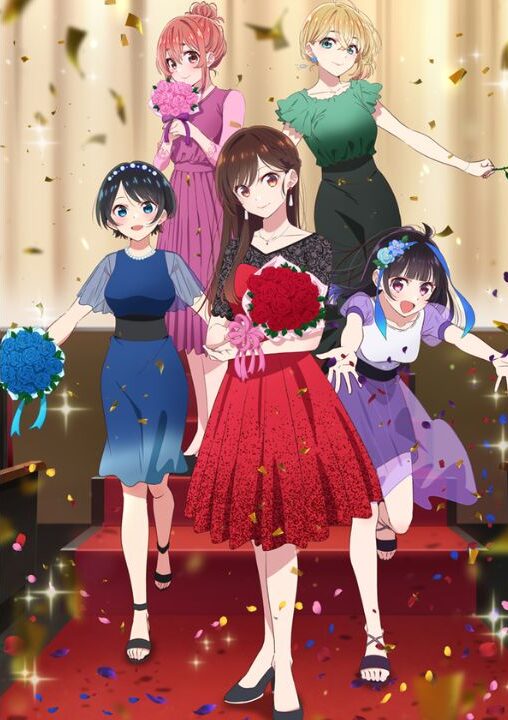 The infamous Rental Girlfriend's Dream Arc, in which Kazuya and Chizuru attempt to make a movie, is anticipated to be covered in Season 3. They want Chizuru's grandmother to watch her realize her dream of becoming a professional actress before it's too late because she is running out of time.
The Rent-a-Girlfriend movie trailer also introduced the four new cast members, who include the following:
| | | |
| --- | --- | --- |
| Characters | Cast | Other Works |
| Nagomi Kinoshita | Yukari Nozawa | Rhodanse (Violet Evergarden) |
| Sayuri Ichinose | Sayuri Sadaoka | Amane (Another) |
| Yoshiaki Kibe | Masayuki Akasaka | Tomonori Shimada (Twin Star Exorcists)) |
|  Shun Kuribayashi | Gakuto Kajiwara | Chatarō Fukuwake (Ayaka: A Story of Bonds and Wounds ) |
Just a few weeks remain till the premiere of the third season of "Rent-A-Girlfriend," and trust me when I tell that it will be one of the most touching and sentimental seasons among the first two.
Concerning Rent-A-Girlfriend
Reiji Miyajima is the author and illustrator of the Japanese manga series Rent-A-Girlfriend, also known as Kanojo, Okarishimasu. Since July 2017, it has been published in serial form in Kodansha's Weekly Shnen Magazine, and as of February 2023, it has been collected into thirty volumes.
Since June 21, 2020, a spinoff manga called "Rent-A-(Really Shy!)-Girlfriend" has been serializing, focusing on the character Sumi. TMS Entertainment's translation of an anime television series debuted in the Animeism block in July 2020.
After dating for roughly a month, Mami Nanami breaks up with Kazuya Kinoshita.He then makes the decision to rent a girlfriend, Chizuru Mizuhara, a stunning and alluring young woman, using an online app.
Their lives get more complicated and intertwined as the narrative advances. Later, additional girlfriend industry girls join in on the relationship and expressed interest in Kazuya.