'Story of a Small Senior in My Company', an Office Romantic Comedy set for a July release
What could be better for a worker than to establish meaningful connections with his coworkers that will continue for years to come? A sexual relationship, however, is guaranteed to complicate matters, especially if neither partner has spoken out about it.
An employee and his female superior had an amorous encounter in "Story of a Small Senior in My Company". In spite of the senior's 'older-sister-like' behavior, the worker can't help but question whether there's more to it than meets the eye. In any case, it restores him and keeps him inspired daily.
This past Friday, a new trailer for the anime "Story of a Small Senior in My Company" was posted online. More members of the cast and crew, as well as the release date of July 1, are all introduced in the video's opening sequence.
Shiori Katase, a senior coworker, is shown patting her subordinate, Takuma Shinozaki, on the back in the preview. Despite his discomfort, Shinozaki enjoys spending time with her. It appears that Shiori enjoys his company as well. Chihiro Akina, Chinatsu Hayakawa, and Yutaka Shinozaki, three new characters, are introduced.
Tya Kobayashi sang the theme song "Honey" for the show's intro. YU-KA also confirmed that "sugar" would serve as the credits' final tune.
The website and trailer also provide an introduction to the voice actors:
| | | |
| --- | --- | --- |
| Character | Voice Artist | Other Works |
| Shiori Katase | Hina Tachibana | Nanaera (The Great Cleric) |
| Takuma Shinozaki | Yūki Shin | Takemichi Hanagaki (Tokyo Revengers) |
| Chihiro Akina, Shinozaki's manager | Nobunaga Shimazaki | Seishirō Nagi (BLUELOCK) |
| Chinatsu Hayakawa, Shinozaki's childhood friend | Yumiri Hanamori | Sagiri Yamada Asaemon (Hell's Paradise) |
| Yutaka Shinozaki, Takuma's big sister | Mikako Komatsu | Maki Zenin (Jujutsu Kaisen) |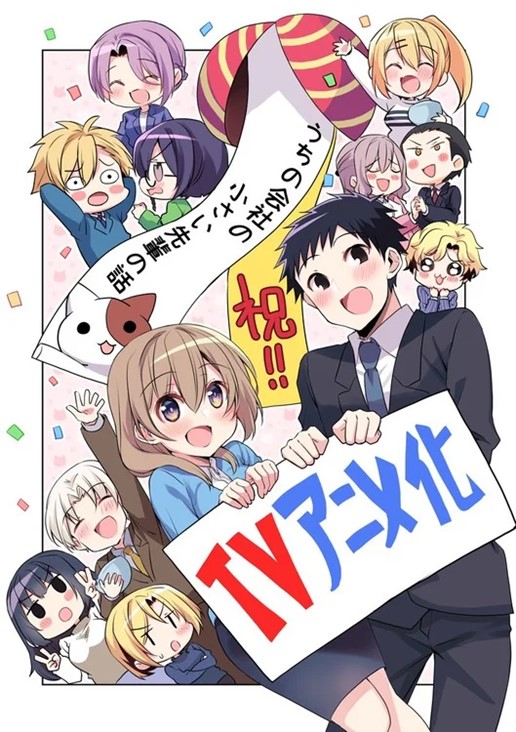 The romcom manga 'Story of a Small Senior in My Company' was written by Sais and takes place in an office setting. It has been running on the Storia Dash page of Takeshobo's website since April of 2020.
The following are the key members of the staff working on the anime adaptation:
| | | |
| --- | --- | --- |
| Position | Staff | Other Works |
| Director | Mitsutoshi Satō | Saikyō Kamizmode! |
| Scriptwriter | Keiichirō Ōchi | Aikatsu!, The Quintessential Quintuplets |
| Scriptwriter | Yasuko Aoki | Phantom of the Idol |
| Scriptwriter | Satoru Sugizawa | Yōjo Shachō R |
| Character Design | Hayato Hashiguchi | Toradora! (Key Animation) |
| Character Design | Hiromi Ogata | Skip Beat! (Key Animation) |
| Music | Sumika Horiguchi | — |
| Animation Production | project No.9 | Bottom-tier Character Tomozaki |
This seems like a fun office animation, and the voices fit the bill for laid-back professionals. Shiori, our primary character, may not have the demeanor or vocabulary of a mature person, but her selfless actions toward Shinozaki prove that she truly treats him like a senior.
Story of a Small Senior in My Company
Known by its Japanese title, "Story of a Small Senior in My Company", this manga series by Sais is a romantic comedy. As of 2023, it has been collected into six volumes after having been serialized in Takeshobo's Storia Dash website beginning in April 2020.
The protagonists of this novel are a new hire named Takuma Shinozaki and his overprotective and diminutive senpai named Shiori Katase. Shiori shows her affections for Takuma openly because she cares for him more than the rest of her employees.