The First '100 Kanojo' Promo Has a Release Date & Cast Details
'The 100 Girlfriends Who Really, Really, Really, Really, Really Love You' makes "the most bizarre form of harem" out of traditional high school romance. One man dating a hundred women simultaneously is, as the title implies, impossible and absurd. But the fact that each girl acts in her own unique way will have you in stitches.
A traditional tsundere, a stoner, and a nerd for science make up the group. All of the potential romantic interests of protagonist Rentaro Aijo are, in fact, his "soulmates," thus he has no choice but to pursue them all. Rejecting a single person will ultimately result in their demise.
On Friday, the first promotional image from 'The 100 Girlfriends Who Really, Really, Really, Really Love You' was posted on the official website. The release date and more cast members were also announced. On October 8 of this year, the anime is set to premiere.
Rentaro prays at the shrine for a better love life and is startled when the shrine deity materializes. He finds out later that he's destined to have a hundred different women in his life. The commercial also features voice actors for Rentaro's five female companions.
The video also featured the introduction of new cast members. All of the unmasked voice actors are mentioned below.
| | | |
| --- | --- | --- |
| Character | Voice Artist | Other Works |
| Rentarō Aijō | Wataru Katō | Touka Scott (The Legendary Hero is Dead!) |
| Hakari Hanazono | Kanae Hondo | Sakura Minamoto (Zombie Land Saga) |
| Karane Inda | Miyu Tomita | Riko (Made in Abyss) |
| Shizuka Yoshimoto | Maria Naganawa | Kanna (Miss Kobayashi's Dragon Maid) |
| Nano Eiai | Asami Seto | Nobara Kugisaki (Jujutsu Kaisen) |
| Kusuri Yakuzen | Ayaka Asai | Zeta (The Eminence in Shadow) |
| God (Kami-sama) | Shigeru Chiba | Buggy (One Piece) |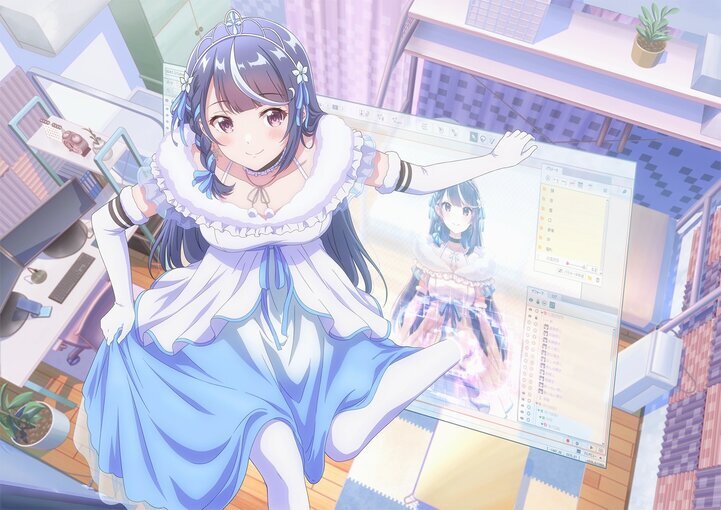 The March notification included the names of some of the employees. The primary team behind the anime adaption is as follows:
| | | |
| --- | --- | --- |
| Position | Staff | Other Works |
| Director | Hikaru Sato | Dropkick on My Devil! |
| Animation Production | Bibury Animation Studios | Grisaia: Phantom Trigger the Animation |
| Series Composition | Takashi Aoshima | Synduality: Noir |
| Character Design | Akane Yano | Bottom-tier Character Tomozaki |
| Music | Shuhei Mutsuki | Lycoris Recoil |
| Music | Shunsuke Takizawa | Kemono Michi: Rise Up |
| Music | eba | Dead Mount Death Play |
It's not simply the show's premise that makes it interesting, though. The 'breaking-the-fourth-wall' moments in this romantic comedy are what really make it stand out and go above and beyond the protagonist's initial predicament. That, and the wide range of personalities on display, means you should give it a shot even if you normally don't like stories of this sort.
The 100 Girlfriends Who Really, Really, Really, Really, Really, Love You
It is a harem and romantic comedy manga series written by Rikito Nakamura and illustrated by Yukiko Nozawa under the title The 100 Girlfriends Who Really, Really, Really, Really Love You (100 Kanojo), or simply The 100 Girlfriends.
The story follows Rentaro Aijo after he has confessed to a hundred women, all of whom have rejected him. In desperation, Rentaro prays to a shrine for a partner during his high school years, but an oversight on God of Love's part means he will end up with 100 soulmates instead.
Rentaro is doomed to a tragic end if she rejects her lover. Rentaro realizes that he must create a harem if he and his 100 girlfriends are to survive.